2013 Late Bottled Vintage Double Gift Box, 2013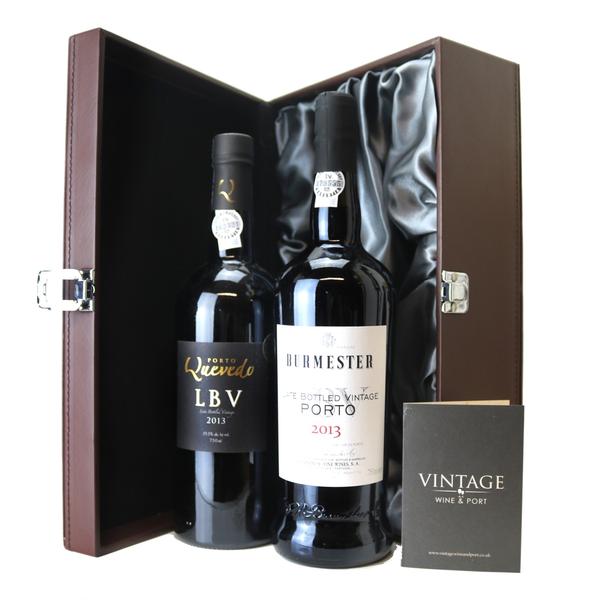 Burmester and Quevedo LBV Port
Includes FREE Double Leather-effect box
Description and Reviews:
This 2013 Vintage Port Wine is fabulous 2013 Late Bottled Vintage Port presented in a double gift box. A great gift for any occasion.

The 2013 Burmester Late Bottled Vintage Port has aromas that are delicate and varied, with plenty of tropical fruit, berries and grapes fully ripe. In its evolution are noticeable aromas of cocoa, chocolate and a slight toasted wood. The palate is dense and opaque.

This delightful 2013 Late Bottled Vintage Port from Quevedo was crowned by Robert Parker's Wine Advocate as the best value port on the market. "The 2013 Quevedo Late Bottled Vintage Port (LBV) was bottled in September 2018, it was aged for 24 months in well-used French oak and comes in at 97 grams per liter of residual sugar. Lush and caressing, this throws off chocolate nuances and tasty fruit.

Wine Making:
In similar fashion to the Vintage, Late Bottled Vintage is produced in the traditional manner, thus gaining a more rustic and tougher character. It is aged in the Vila Nova de Gaia cellars in enormous oak vats in order to preserve its deep colour and fresh fruit flavours, gaining a closed and fruity character. It is bottled between the fourth and fifth spring after harvest.
Late Bottled Vintage Port, Vintage Port
£44.95 inc UK VAT (where applicable) *