1955 Port Vintage Report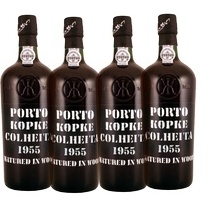 The 1955 port vintage produced outstanding, fruity wines for long-term ageing - a real pleasure to drink, now or in a few decades time. One of the most underrated Vintages of the 20th Century. Declared by most of the major Port houses.


The 1955 vintage ports are characterised by having outstanding fruit and being superbly balanced wines, fruity, smooth and concentrated. They are a real pleasure to drink now, but the best will last well into the 21st Century if well cellared.
20 products found.