Croft Port, 2015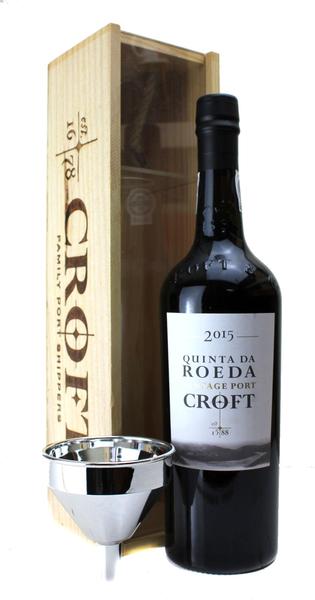 Quinta de Roeda Vintage Port
Presented in a Croft Gift Box with Decanting Funnel

Description and Reviews:
*** 95 Points- Wine Enthusiast ***
*** 92 Points- Aggregated Critic Score ***

The Croft Quinta da Roeda Vintage port comes from one of the finest Douro Valley estates.
Its 2015 is a fusion of a rich plump dark berry compote intermingled with warm notes of liquorice, dark chocolate and spice, elements that contribute to the wine's opulent character.The palate is smooth, round and full of rich, jammy flavour. This wine is immediately appealing but will continue to gain in elegance and refinement between 2024-2045+.


Serving Suggestion:
When mature this port will need to be decanted to remove sediment. Serve at room temperature on its own or with vintage mature blue cheeses such as stilton Cashel Blue, Roquefort, Gorgonzola and Saint Augur Blue.Vintage port is also good with chocolate - a flattering accompaniment to top quality hand-made chocolates and artisan chocolate bars.





Excellent condition. Price includes gift box as shown.
Vintage Port, Vintage Port
£39.95 inc UK VAT (where applicable) *
* excludes delivery (free standard UK delivery on orders over £100)