Dow's Port, 1963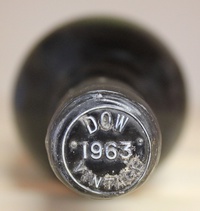 Vintage Port
Special Offer | Was £225 | Now £149 Maximum of 2 Bottles per customer.
Description and Reviews:
A superb port from a top, vintage which has certainly continued to improve over the last fifty-five years. It is close to its optimum with an excellent structure, complex taste and aroma. Very smooth, slightly sweet and sublimely easy to drink featuring attractive, mellow fruitcake flavours and lightness on the palate.



Good levels high shoulder or better. Unlabelled.
Vintage Port, Vintage Port
£149.00 inc UK VAT (where applicable) *
* excludes delivery (free standard UK delivery on orders over £100)