1994 Ferreira, 1994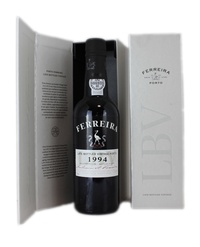 Late Bottled Vintage Port - HALF BOTTLE 37.5cl Includes original gift box
Description and Reviews:
Special release from the Ferreira Cellars.

When a wine is as dense, plummy and pretty as this, you're in business. It's somewhat round and fat, but it's rightly balanced by driving cherry fruit and bitter chocolate. An LBV rich enough to top off vanilla ice cream yet vital enough to be drunk by the glass is a good thing to have in the house.
Excellent special release - Half Bottles
Late Bottled Vintage Port, Vintage Port
£38.95 inc UK VAT (where applicable) *