Fonseca Port, 1947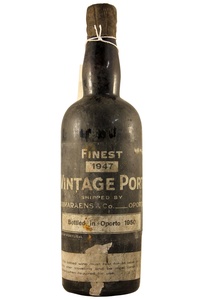 Single Quinta Vintage Port (in neck)
Description and Reviews:
This is a special treat at the end of the evening. Murky copper coloured with a rich intense raisoned nose with bay leaf and hints of brandy butter and caramel. The palate is full and powerful but with a surprising freshness and lift. Dense and flavoursome with rich dark coffee, cloves, chocolate and toffee apple flavours. Absolutely lovely with endless length.
Excellent label for year. Level in neck. Capsule has been rewaxed.
Vintage Port, Vintage Port
£1295.00 inc UK VAT (where applicable) *
* excludes delivery (free standard UK delivery on orders over £100)