Graham's Port, 2017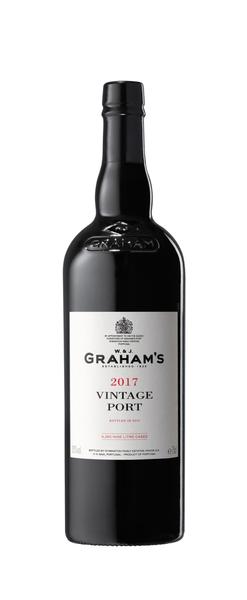 Vintage Port
(6x75cl) DUTY PAID, INCLUDING VAT AND UK DELIVERY

Description and Reviews:
6x75cl Case Offered DUTY PAID INCLUDING VAT AND UK DELIVERY

Review Scores
*** 18+/20 - Richard Mayson ***
*** 97/100 - James Suckling ***
*** 95/100 - Vinous Neal Martin ***
*** 18.5/20 - Jancis Robinson ***

Grahams 2017 Vintage Port Technical Sheets

Tasting Note
The wine is a truly outstanding example of the best that the Douro is capable of producing. Deep purple in colour and with a viscosity that signals a huge concentration, the aromas of blackberry, plum and bergamot leap out of the glass. On the palate there are layers of black fruit with fresh apricot highlights, and an amazingly long and persistent finish.
Terms and Conditions • Wine offered iduty paid including VAT and delivery to a UK address
Vintage Port, Vintage Port
£459.00 inc UK VAT (where applicable) *