Quinta do Noval Port, 2001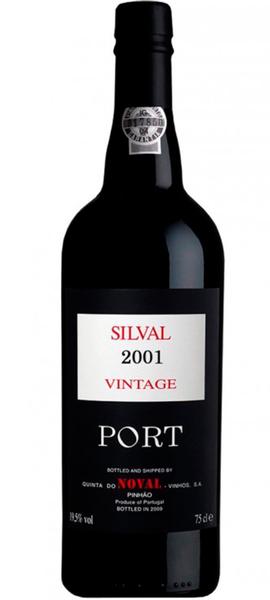 Silval Vintage Port
Description and Reviews:
The Quinta do Noval Silval Vintage Ports today offer wonderful value for money. This eccentric late release (the wine was bottled in 2003) was made entirely from grapes of Quinta do Silval, and selected high grade "A" vineyard in Cima Corgo, in the heart of the Douro Valley.

Note: The 2001 Silval is characterised by a very seductive bouquet, vibrant fruit and silky tannins, making this an unusually attractive and accessible young Vintage Port. It shares with our previous declarations of Silval the characteristics of smoothness, elegance, openness, and readiness to drink while relatively young, and at the same time retaining sufficient structure to age for many more years in bottle.

Along with Noval's Nacional 2001, the 2001 Silval was declared to in 2003, but not released immediately. Instead it was set aside to be put on the market when Christian Seely felt it was the right time. He released that wine at the same time as the 2014 vintage of Quinta do Noval.
Vintage Port, Vintage Port
£49.95 inc UK VAT (where applicable) *
* excludes delivery (free standard UK delivery on orders over £100)