Sandeman Vintage Port, 1980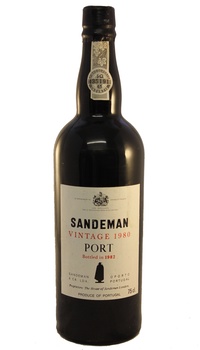 Vintage Port
bin-soiled and damaged labels | vintage legible
Description and Reviews:
"Due to the richness in colour intense fruit flavour and its impressive finish, Sandeman 1980 promises to be a wine of considerable character when mature. The 1980 should as was the 1960, be at maturity sooner rather than later" (David Sandeman).

A slight menthol note here. The nose is very rich, perhaps a touch chemical. Nice weight on the palate – chewy, with good dimension. Good balance and finish.
Vintage Port, Vintage Port
$141.06 USD inc UK VAT (where applicable) *