Taylors 40 Year Old Tawny port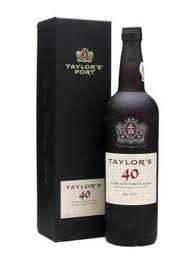 Tawny Port (Includes Taylor's presentation box)
Description and Reviews:
Only tiny quantities of this aged tawny port are produced each year, making the wines extremely rare and amongst the most revered in the world.

This beautiful Tawny port has been aged in oak casks for an average age of 40 years. During their long maturation they become tawny in colour and concentrated in their aromas. This port has very intense and elegant flavours which combine to give a smooth, fine finish.
Excellent. Please note that the label states "40 years old" and does not have a specific vintage year.
$183.80 USD inc UK VAT (where applicable) *
* excludes delivery (free standard UK delivery on orders over £100)