Warre's Vintage Port, 2003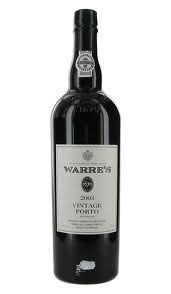 Vintage Port
Description and Reviews:
A vintage 2003 Port Wine from Warre's Vintage Port. Warre's Port was first founded by two Englishmen in 1670.

"Black pepper, sealing wax, spices, and toast are found in the nose of the potentially exceptional 2003 Warre Vintage Port. A concentrated, backward effort, its youthful, classically ungenerous, masculine character reveals black pepper laced dark fruits. Silky-textured in its immensely endowed mid-palate, this top-flight effort displays an admirably long, tannin-filled finish. It will require serious cellaring. Projected maturity: 2030-2050." - 93 / 100 points, Pierre Rovan, Wine Advocate.

"The nose is marked by lifted pure blackberry, dark cherry and black olive aromas, very intense and ripe with wonderful definition and showing no signs of the summer heat. The palate is full-bodied with rounded, voluptuous tannins. This is a plush port, caressing the palate with its sensuous charms with a smooth plump spicy finish. Not a cerebral Warres but one designed to impart maximum sensory if not intellectual pleasure. Drink 2015-2030. Tasted May 2009." - 91 / 100 points, Neil Martin, Wine Journal.


Vintage Port, Vintage Port
£69.95 inc UK VAT (where applicable) *
* excludes delivery (free standard UK delivery on orders over £100)