Calem Port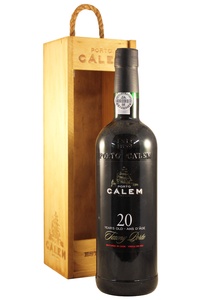 20 Year Old Tawny Port
Includes Calem presentation box
Description and Reviews:
Cálem 20 Years Old has been aged in small oak casks for an average 20 Years. It has an orange-tawny colour with tinges of green- characteristic of ageing in wood. It has a complex bouquet of almonds and citrus and on tasting it is smooth, silky and light with lots of finesse. Ideal on its own or with patés, cream cheeses and fruit tarts.
Excellent - Bottled in 2015 - Please note that this is a blend of more than one vintage with an average age of at least 20 years - the vintage does not appear on the bottle.
Vintage Port, Vintage Port
$49.67 USD inc UK VAT (where applicable) *