Dow's Port, 2017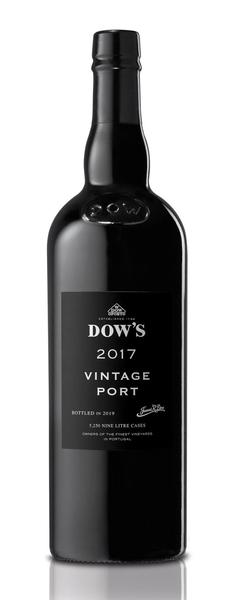 Vintage Port
(6x75cl) DUTY PAID, INCLUDING VAT AND UK DELIVERY

Description and Reviews:
6x75cl Case Offered DUTY PAID INCLUDING VAT AND UK DELIVERY

*** 18.5/20 - Richard Mayson ***
*** 98/100 - James Suckling ***
*** 98/100 - Vinous Neil Martin ***
*** 18/20 - Jancis Robinson ***

Technical Sheets
Dows 2017 Vintage Port Technical Sheets

Tasting notes
It is rare to see such tremendous depth and intensity in colour as this wine displays. The freshness of the floral aromas is very attractive with a dominance of rockrose, a flower that grows wild around the hills of Senhora da Ribeira. On the palate, it is exceptionally full-bodied, rich and powerful with black fruit coming to the fore. Gorgeous, ripe fruit is balanced by the fine tannin structure. On the finish, it is typically Dow, austere and somewhat drier than many other ports. The intense fruit flavours linger long on the palate.

Charles Symington commented after selecting the final blend:
"This is one of the finest Dow's Vintage Ports I have blended. I believe this wine more than deserves its place alongside our recent Dow's Vintages of 2016, 2011 and 2007. In my opinion it has the potential to rank alongside the Dow's all-time greats."

Provenance and variety make-up
• Quinta do Bomfim: 43%
• Quinta Da Senhora da Ribeira: 38% • Quinta do Cabec?o: 12%
• Quinta da Cerdeira: 7%
• Touriga Nacional: 42%
• Touriga Franca: 38%
• Sousa?o: 9%
• Old mixed vines (field blend): 8% • Alicante Bouschet: 3%
Wine Specification
• Alcohol by volume – 20% v/v (20°C)
• Total acidity – 4.24 (g/l)
• Baume? – 3.40
• Bottled during May 2019 with no filtration
• Winemakers: Charles Symington, Pedro Sousa (Bomfim)
and Ricardo Carvalho (Senhora da Ribeira).
Terms and Conditions • Wine offered duty paid including VAT and delivery to a UK address
Vintage Port, Vintage Port
£445.00 inc UK VAT (where applicable) *
* excludes delivery (free standard UK delivery on orders over £100)