Sandeman Vintage Port, 2016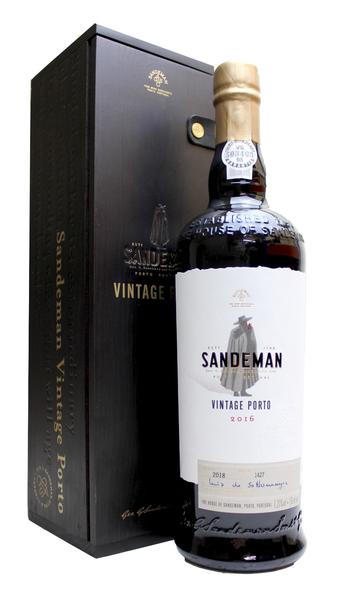 Vintage Port in Gift Box
Description and Reviews:
Sandeman are delighted to announce a full declaration for our 2016 vintage port.It has been five years since the last release, but according to winemaker Luis Sottomayor, "As soon as the grapes arrived at our Quinta do Seixo winery, we knew this was the best we had seen since the last declaration in 2011".

Vintage Report
2016 will go down in Port Wine's history as a top-quality vintage. An unusual year in terms of weather, a mild and dry winter gave way to a persistently wet spring putting the potential for a high-quality harvest in doubt. A mild summer with the occasional heatwave rescued the year with a perfect balance of daytime heat and night-time cold allowing the grapes to mature slowly.


Vinification
The finest grapes from Sandeman's best properties, Quinta do Seixo and Quinta do Vau, were destemmed and gently crushed before undergoing an intense maceration in temperature controlled, granite lagares. When the wine had reached a perfect balance treading stopped and fermentation was halted by fortification. Resting at Seixo over the winter it was then racked and transported to Sandeman's cellars in Vila Nova de Gaia where it was aged in oak casks. The final blend was made from a careful selection of the finest casks.


Tasting notes
Opaque with an almost black colour the wine has an intense, complex aroma. Ripe black fruit, cocoa and chocolate flavours continue on to the palate where some floral notes of rockrose are also apparent in a long, lingering finish. Firm tannins, full-bodied and with fresh acidity it has structure that will allow the wine to age comfortably for decades.
Delivery Early 2019. No discount codes can be used in this purchase.
Vintage Port, Vintage Port
£89.00 inc UK VAT (where applicable) *
* excludes delivery (free standard UK delivery on orders over £100)