2016 Value Port Collection, 2016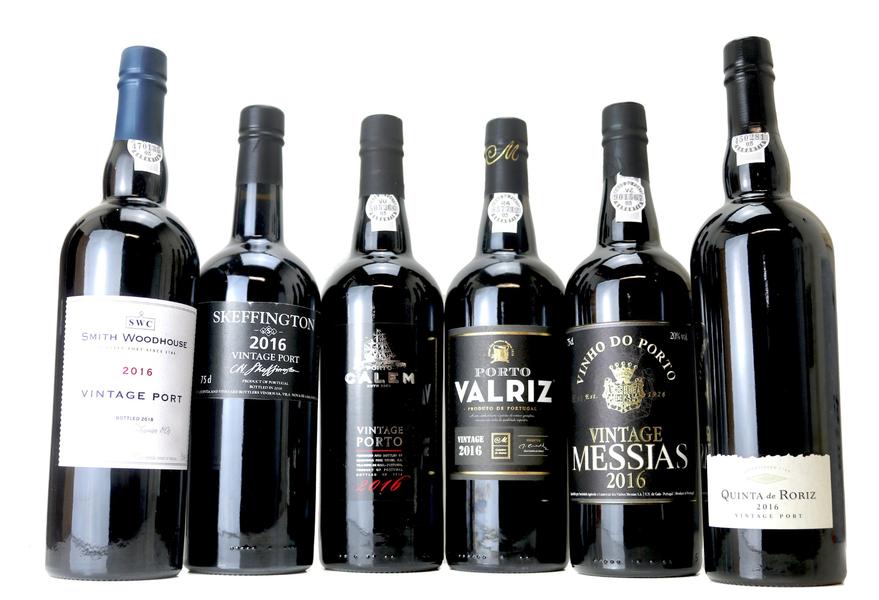 Six Bottles of Outstanding Port from the recently declared 2016 Vintage: S.Woodhouse, Quinta de Roriz, Messias, Valriz, Calem and Skeffington
Description and Reviews:
These 2016 Vintage Port Wines were selected by our port buyer to create a case of outstanding value.

Contains (all 75 cl) :

1 x 2016 Smith Wood House Vintage Port (96 points)
1 x 2016 Quinta de Roriz Vintage Port (94 Points)
1 x 2016 Valriz Vintage Port (90 Points)
1 x 2016 Calem Vintage Port (91 points)
1 x 2016 Skeffington Vintage Port - (94 points)
1 x 2016 Messias Vintage Port (92 Points)

Smith Woodhouse Vintage Port
Aromas suggesting bergamot and tea-leaf, as well as floral aromas of rockrose and violets. Substantial on the palate, showing ripe, black fruit and liquorice. The seamless, peppery tannins give freshness and excellent structure.

Quinta de Roriz Vintage Port
Lifted ripe red fruit aromas which are confirmed on the palate with delicious supple flavours of strawberry and raspberry. There is an interesting mineral streak, backed up by dry tannins that give the wine balance and structure.

Skeffington Vintage Port
The 2016 Skeffington has a very pure bouquet with scents of macerated dark cherries, kirsch, marmalade and iodine and a lush, open personality that unfolds nicely with aeration. The palate is medium-bodied with a soft-textured entry. It is very pure, forward and welcoming even at this nascent stage, with a nutty seam underlying the sweet black currant and dark plum fruit. The 2016 Skeffington has a pleasant symmetry towards the raisin-infused finish.

Valriz Vintage Port
From the outstanding 2016 vintage, the Porto Valriz has a inky black violet colour. On the nose there are intense aromas of black fruits, blackberries, black cherry and violets. The palate is balanced with good fruit and freshness. The tannins are fine and the finish is long and persistent.

Messias Vintage Port
With a dark red colour, this Vintage Port has an intense personality, with ripe berries aromas, jam and hints of blackberries while young, turning to a complex bouquet and full of tertiary aromas with the ageing. It always has a powerful mouth feeling, with a remarkable structure, revealing a pleasantly long aftertaste.

Calem Vintage Port
The 2016 Calem Vintage port is subtle on the nose, with notes of very ripe black fruit, dark chocolate and spice. With a powerful and intense structure, it shows a balance between acidity and sweetness that confers creaminess and sophistication. A long finish, with lingering fruit, this port is for the long haul.
Excellent- .No discount codes can be used in this purchase.
Vintage Port, Vintage Port
£245.00 inc UK VAT (where applicable) *
* excludes delivery (free standard UK delivery on orders over £100)