Butler Nephew Vintage Port, 1970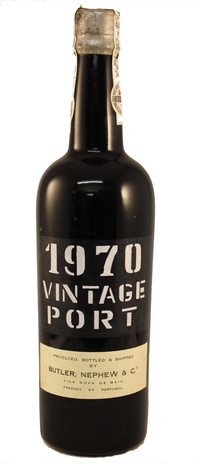 Vintage Port

Description and Reviews:
The 1970 Butler Nephew Vintage is a top quality vintage port produced before the company was purchased by Gonzalas Byas and entered into decline. The wine is dark (60% opaque), light nose of candy and vanilla. Very sweet with a full body and serious backbone. A mixture of black cherries, raisins, dates and licorice on the palate overlaid with a little lavender. The backbone does balances some of the sweetness which leads to a long, long finish. TC (2019).

This House was founded by John Nash in Burmester, Nash & Co in 1730. In 1789 they dissolved partnership and James Butler was taken as partner and the firm became Nach, Butler & Co. Twenty years later J Butler took Mr. Nash nephew Mr. Tynedale as partner of the firm change name again to Butler, Tyndale & Co. In 1829 James Butler's nephew Robert Butler joined and the name then became Butler, Nephew. After the Second World War the house was owned by Gonzalez Byass. In 1979 Stephen Christie bought the Gonzalez Byass business in Portugal. Later on - in 1989 - Sandeman bought a large part of the stock.


Vintage Port, Vintage Port
$178.82 USD inc UK VAT (where applicable) *