Dow's Port, 2015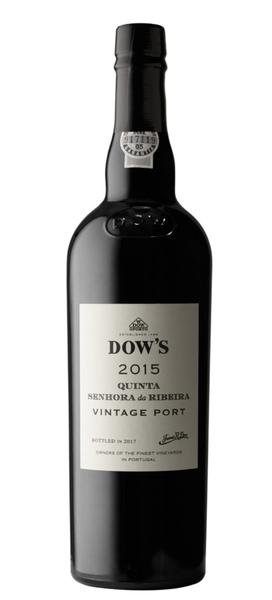 Quinta Da Senhora Da Ribeira Vintage Port, MAGNUM 1.5L bottles - Presented in original wooden gift case
Description and Reviews:
This 2015 Vintage Port Wine from Quinta da Senhora da Ribeira, a vineyard to which The Symington family has a strong attachment to. The current generation's great grandfather, Andrew James Symington, took ownership of the Quinta in 1912 when he became a shareholder in Dow's, which had originally acquired the property in 1890. Together with Quinta do Bonfim it has been the mainstay of Dow's Vintage Ports for 125 years.

The 2015 Quinta da Senhora da Ribeira Vintage Port was produced from one co-fermented lagar of Touriga Franca and Sousão (0.7 Kg per vine) picked on September 29th, and another lagar of Touriga Nacional also fermented with Sousão. These three historic Douro varieties have produced one of the finest wines made in recent years at Senhora da Ribeira. All grapes were fermented in the Quinta's own small winery which is entirely equipped with lagares, both the traditional stone lagares and the modern version of the same, permitting perfect levels of flavour and colour extraction.

In 2015 a new Oscyllis de-stalker was used for the first time at the Senhora da Ribeira winery. This innovative equipment conserves greater purity of fruit and virtually eliminates undesirable stalky flavours.




Vintage Port, Vintage Port
£145.00 inc UK VAT (where applicable) *
* excludes delivery (free standard UK delivery on orders over £100)