Feuerheerd's 60 Years of Tawny Port, 1959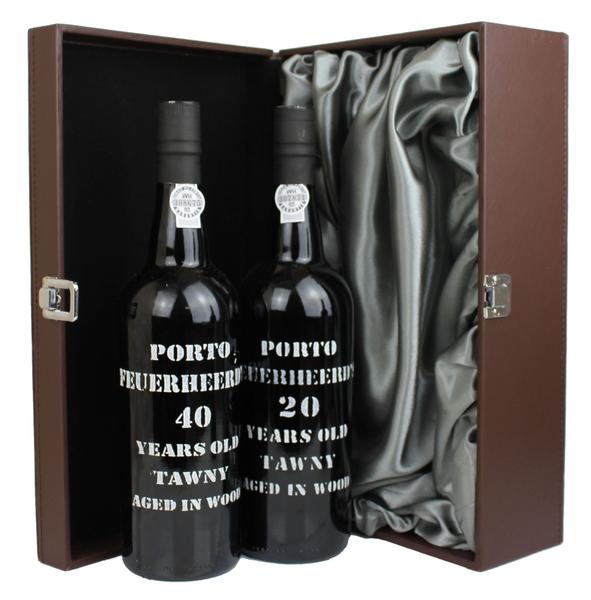 A 40 Year Old Tawny and a 20 Year Old Tawny, both ports come in a double dark mocha leather effect gift box.
Description and Reviews:
A wonderful gift to celebrate a 60th anniversary. This double gift box contains two 75cl bottles of Rich Tawny Port beautifully presented in a silk lined gift box:

Feuerheerd blends its magnificent Tawny Ports from its extensive reserves of old cask aged Ports matured in the firm's cool and tranquil cellars, (known as 'lodges') in Oporto on Portugal's Atlantic coast.

Feuerheerd's 40 Year Old Tawny:
Mid-tawny colour. On the nose intense clementine, walnut and mocha aromas prevail. Sweet walnuts and earth spices follow on the palate with a rich mouthful. There is a high level of acidity which cuts through the richness. Absolutely delicious and good value for the style.

Feuerheerd's 20 Year Old Tawny:
***91 Points-Wine Enthusiast***
This aged tawny port wine has a very soft texture with intense complexity and aromas of nuts, raisins and figs. On the palate it has flavours of toasted coconut and caramel with a long mellow finish.

Serving Suggestion
Ready to drink and preferably served chilled, tawny ports are delicious dessert wines and are the perfect finish to any meal or to accompany sweet desserts, mince pies, cakes, milk chocolates, walnuts, nuts, crème brûlée, Roquefort and as digestives with cigars.
£139.00 inc UK VAT (where applicable) *