Feuerheerd's Ruby & Tawny Duo, Non Vintage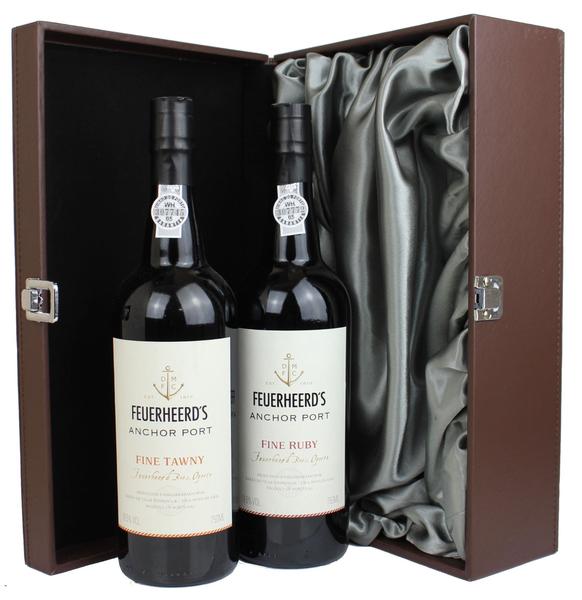 Ruby & Tawny Port 2x75cl bottles (Both ports come in a double dark mocha silk-lined gift box as illustrated)
Description and Reviews:
Feuerheerd's was founded in 1815 by the German trader Dietrich Matthias Feuerheerd who established his business in Oporto. In 1926 the company was sold to the Barros family and in 2007 to Quinta D. Matilde – Vinhos, Lda which is owned by some members of the Barros family. Feuerheerd's became famous over the years for the quality of its wines, especially a few of its Vintage Port.
Nowadays, the brand acquired by Barão de Vilar - Vinhos, SA, giving birth to a new partnership between the Van Zellers and the Barros family, determined to revive the long tradition of quality of Feuerheerd's wines.

Feuerheerd Ruby Port
The Feuerheerd's Ruby Port is a blend of selected young ports matured in large oak vats "tonels" keeping a young fruit character. The wine shows some rich, full bodied flavours of red fruit, such as plums and raspberry.

Feuerheerd Tawny Port
Feuerheerd's Tawny Port is a blend selected and matured in small oak vats. The aroma is a perfect combination os ripe fruit with dried fruit and cinnamon.

Serving Suggestions :

Ruby Port
These full bodied, fruity red ports are the ideal partner for a cheeseboard, chocolate dessert or even an intense Port wine reduction. Full flavoured cheeses such as a good farmhouse Cheddar or Red Leicester would harmoniously accompany this port style.
Tawny Port
Smooth and mild to the taste this tawny port can be served with stilton, obviously, and with hard cheeses like cheddar, with nuts and dried fruits and over Christmas with fruit cake and mince pies.
£34.95 inc UK VAT (where applicable) *