Graham's Port, 2019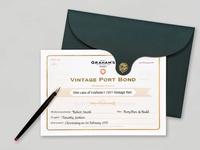 Grahams Port Bond (Single Bottle 1x75cl)
Offer Price includes certificate, duty and tax
Discount codes cannot be used with this offer.
Description and Reviews:
It has long been a tradition for special occasions to be marked by the laying down of vintage port from the year of the event. Problematically, due to the fact that a vintage year is normally only declared in the second year after the harvest, the recipient of the gift often has to remain empty handed until sometime after the celebration.


Graham's are the first port company to overcome this problem, providing a vintage port bond that is available for purchase in the year of harvest. The port bond scheme guarantees that a certain quantity of the wine produced each year will be reserved for the bond holder.

The port is delivered approximately two years after the August/September harvest. Graham's will be in contact to arrange delivery at this time.


In the meantime, Graham's will create a gift certificate to mark the occasion. This will be delivered within 7 working days after the order has been placed.

If the vintage is not declared, the bond holder will receive two bottles of single quinta vintage port - Graham's Quinta dos Malvedos.
In the unlikely event that no vintage port is made at all during the the year due to extraordinary weather then a full refund or an alternative will be given.

Vintage port is the ultimate gift for special family occasions - particularly the birth of a child. Port has an extraordinary ability to age gracefully for 75 years and more; developing from a structured, powerful and robust young wine into one that is sophisticated and elegant. Its delicacy and ethereal beauty will continue for decades.


For more information see Graham-port-bond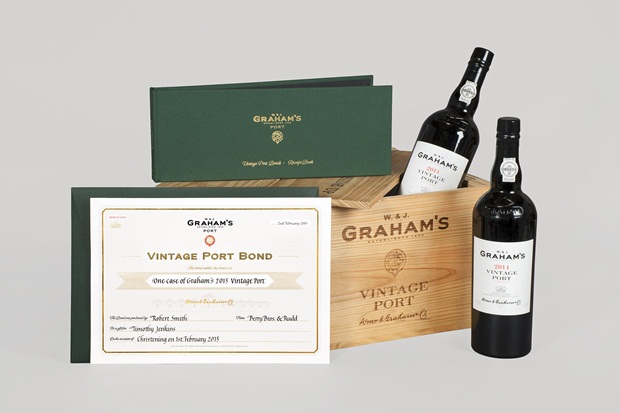 ***PLEASE NOTE***
Graham's will require some details in order to create your certificate.
After placing your order you will receive an email including a link to a port bond details form. The details required are outlined below:
- The bond purchaser's name/s as you would like to appear on the certificate
[Max 40 characters including spaces]
- The bond recipient's full name and title as you would like it to appear on the certificate
[Max 40 characters including spaces]
- The occasion (christening, wedding e.t.c), date and location
[Max 80 characters including spaces].
If the recipient is underage please also include:
- The guardian's name, landline, mobile and an e-mail address
(to be contacted when the port is ready to be shipped)
We will pass on your completed form to Graham's, who will create your certificate and have it delivered within 7 working days.
Please note that no discount code can be used with this offer. This product is available only for delivery in the UK.
Please note that certificates are created by Graham's and will take approximately 7 Working days for delivery.
Once certificates are printed, there is a £10 administration charge to change details on the certificate so that a new one can be printed.
No discount can be used with this offer.
Vintage Port, Vintage Port
£95.00 inc UK VAT (where applicable) *
* excludes delivery (free standard UK delivery on orders over £100)