Graham's Port, 2015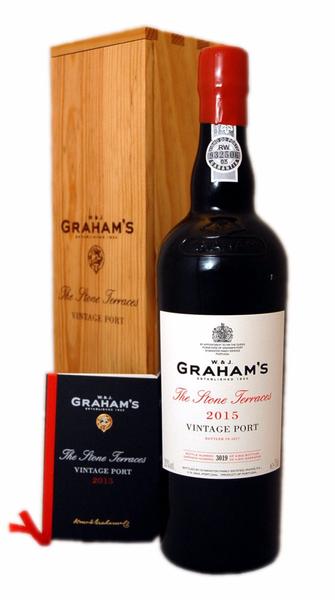 THE STONE TERRACES, Vintage Port
Single bottle presented in a wooden box
Description and Reviews:
The Symington family is pleased to announce a limited release of 400 cases of Vintage Port from its Stone Terraces vineyards, which occupy just 2.9 hectares of its iconic Quinta dos Malvedos, of which the total area under vine is 90 hectares. Acquired in 1890, this property is acknowledged to be in one of the Upper Douro Valley's most favourable sites. It has been the source of some of the greatest Vintage Ports ever made.
The Stone Terraces vineyard at Quinta dos Malvedos produced an extraordinary wine in 2015. The grapes were picked by hand over the weekend of the 12th/13th of September, a couple of days before substantial rain fell across the Douro Valley, and were subsequently fermented in lagares at the estate's own small winery. Yields were incredibly low at just 0.82 kg per vine and several hours of treading over the following days delivered a magnificent wine with sublime floral aromas of violets.



Vintage Port, Vintage Port
£169.00 inc UK VAT (where applicable) *
* excludes delivery (free standard UK delivery on orders over £100)