Graham's Port, 2011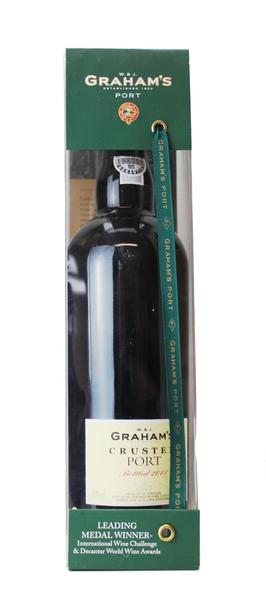 Crusted Port
Special Offer | was £32.95 | Now £22.95
Description and Reviews:
Graham´s Crusted 2011 Port Wine, has an excellent dark ruby colour. On the nose it is packed with aromas of red and black fruits such as cherries and blackberries, combined to lifted floral hints.
On the palate, it is full-bodied, with excellent ripe fruit flavours balanced by a fresh acidity and velvety tannins leading to a long and lingering finish. Graham's blend this wine from two or three vintage years and age it in bottle for at least another three years before releasing it on the market. Bottled in the same way as a classic Vintage Port this wine will continue to mature in bottle and can be laid down for several years.

The name Crusted Port comes from the fact that, like Vintage Port, it is unfiltered and will throw natural sediment, or "crust", as it ages. As with Vintage Port, it should be stored lying down and requires decanting before serving. The bottle should be left standing for about an hour before serving so as to allow the deposit to settle.

Graham's Crusted can be enjoyed anytime and pairs wonderfully with chocolate desserts, blue or hard cheeses (like Roquefort and mature Cheddar) or even with fruit desserts like cheesecake or cherry pie.
Crusted Port, Vintage Port
£22.95 inc UK VAT (where applicable) *