Quinta do Noval Nacional, 1963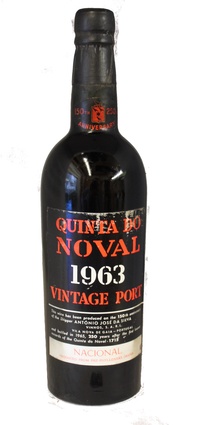 Noval Nacional (in neck)
Description and Reviews:
Noval is particularly famous for its Nacional, a Port produced in some years only from a 2 hectare parcel at the heart of the Noval vineyard where ungrafted pre phylloxera vines survive.

"Last July I enjoyed this "legend" at Noval and consumed my share of an entire bottle that was opened for our small group of Port journalists. This VP had a very dark ruby color and was clearly from a perfectly stored bottle. The 1963 is as lithe and graceful as a trapeze artist, and showed what perfection in balance is all about. It is not easy for Port to get much better than this. Sweet, spicy, grapey, mint, big, bold, brash are all apt descriptors. But what struck me most (and I held onto this for well over an hour), was its completeness. It simply showed the awe inspiring integration of each and every component. The aromas danced while the flavors tingled and the finish ... well, it just never did! The acidity level and tannic structure and silky mouthfeel were all essential parts of this phenomenon. " Roy Hersh, The Port Forum

A perfect bottle. Immense. Closed, deep, spicy. Very fresh and rich, stellar fruit, christmas spices, a clenched iron fist but the glove is not quite velvety yet. Enormously structured. Too young, believe it or not. Drink from 2020. Will easily live to be 100 years. Perfection. A humbling experience.

excellent level in neck, labels good.
Vintage Port, Vintage Port
$6,104.32 USD inc UK VAT (where applicable) *
* excludes delivery (free standard UK delivery on orders over £100)