Quinta do Noval Port, 1963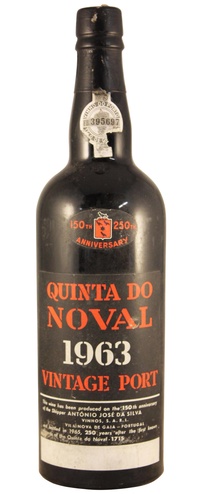 Vintage Port (low shoulder - excluded from guarantee)
Description and Reviews:
From the legendary 1963 vintage, the Quinta do Noval exhibits power, dimension and real character. After 50 years the Ports never fail to impress.

The 1963 Quinta do Noval has a light garnet hue with degradated deep brick rim. The nose has scents of cherry, spice, iron rust and wild strawberry.
The palate is medium-bodied, quite pretty, with damson, cherries and a touch of sloes. Quite cohesive. The finish is pleasantly harmonious with good vigour. This is a lovely, elegant mature port.

Low shoulder - higher risk of failure - excluded from guarantee
Vintage Port, Vintage Port
£50.00 inc UK VAT (where applicable) *