Taylor's Port, 1985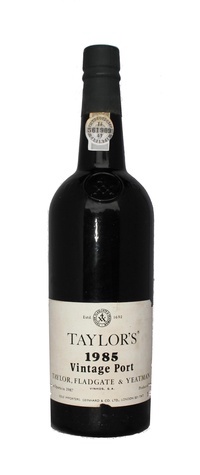 Vintage Port
Description and Reviews:
Medium ruby. Beautiful aromas of flowers and fresh plum, with hints of stems. Full-bodied and medium-sweet, with gorgeous silky tannins and a long, long finish. This 1985 Port vintage is just starting to come around and offers wonderful flavors. Long life ahead, but ready to try.
(Wine Spectator - Jun 2008)

Review: "Typical for Taylor's. Notes of woodspice and pepper, very slightly spirity. Nevertheless, a delicious texture on entry, supple and stylish, although with a very firm weight, firm tannins and good acids. Again this is fine to drink now, although it still holds some potential now. Very good indeed, bordering on excellent. From a Port Styles tasting." 17.5+/20 (November 2007), Wine Doctor (online).
God level some tear on label
Vintage Port, Vintage Port
£89.95 inc UK VAT (where applicable) *
* excludes delivery (free standard UK delivery on orders over £100)