Warre's Vintage Port, 2000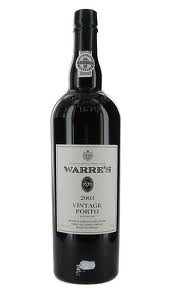 Vintage Port
Description and Reviews:
Warre's has been leading the Port trade since it was established as the first British Port House in 1670. A pioneer of a great tradition with over 300 years of history, Warre's legacy is built on the superb quality of Warre's Vintage Ports and on an unwavering commitment to quality and successful innovation.
Warre's Vintage Ports are peerless in their expression of poise and elegance. This unsurpassed style is derived from the inherent characteristics of Warre's two principal vineyards; Quinta da Cavadinha and Quinta do Retiro Antigo. They complement each other very well. Cavadinha's location, aspect and altitude translate into a cooler ripening cycle providing the freshness, fine subtle floral aromas and ideal acidity, the latter contributing significantly to the wines' longevity. Retiro Antigo's location in the hotter Rio Torto Valley, combined with the fact that just over 70% of the vineyard is made up of old, mixed vines, results in wines that show great intensity, concentration and complexity. Their powerful structure also provides great staying power.

Very dark inky and concentrated colour. Lovely fresh aromas of violets. Layer and layer of ripe blackberry fruit, intensely rich and full bodied. Sweetness and tannins bind this wine together to form a perfect
harmonious structure.
Vintage Port, Vintage Port
£68.95 inc UK VAT (where applicable) *