1949 Port Vintage Report
A poor year for the Oporto ports. Not a declaration year, we would recommend perhaps buying a "70 Years of Port" gift set such as the Taylor's 70 Years of Tawny Port , a gift box comprising a 30- and a 40- year old Tawny Port to add up to 70 years. These sets make the perfect 70 year old wine gift for a 70th birthday or anniversary.
1 products found.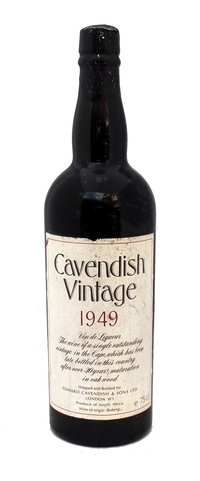 Cavendish port (South Africa), 1949
South Africa, Port, 30 years in oak.
South African fortified red wines have a long and distinguished history dating from the early 19th century, not long after the creation of modern Port in Portugal.As the Portuguese port industry obtained an embargo on calling anything 'port' not emanating from Portugal, this fortified wine from the Cape has to be called 'Vin de Liqueur'. Today many of the fortified red producers, concentrated around Calitzdorp in the Klein Karoo, use Portuguese varietals and make wines that compete in quality with similar wines made in Portugal.

As can be seen on the label, the text relates "The wine of a single outstanding vintage in the Cape, which has been late bottled in this country after over 30 years maturation in oak wood". …
more >>>
Price: £199.00
Stock: 1 in Stock