Calem Port, 1985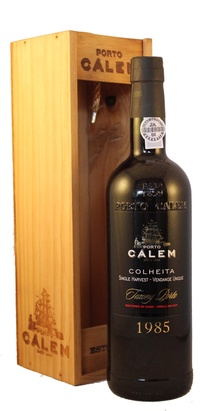 Colheita Port
Description and Reviews:
Porto Cálem Colheitas or Dated Ports are tawny Ports from a single year high quality crop. Each year reveals special characteristics which are developing whilst ageing in the wood casks for a period not less than 8 years. Colheita presents a tawny colour, smooth touch in the mouth and a bouquet of vanilla, honey and dried fruits. Ready to serve single as the bottle is opened without need for decantation, are also ideal to go along with cakes and deserts.
Calem 1985 offers complex leather, spice and raisin aromas, fresh acidity and a long intense finish.
Colheita (Single Harvest) Port, Vintage Port
£89.00 inc UK VAT (where applicable) *