1972 Graham's Port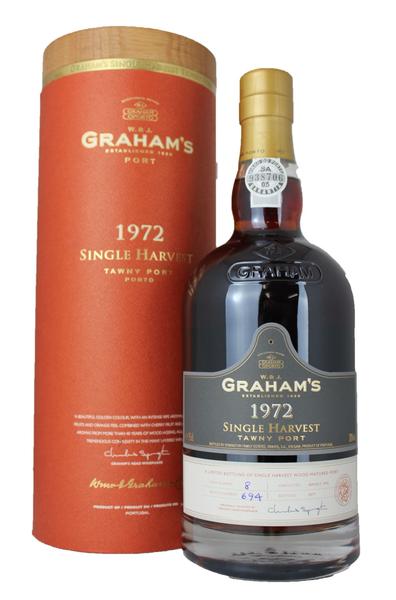 1972 Single Harvest Colheita Port
Includes presentation case
Description and Reviews:
The 1972 Single Harvest Tawny Port is made from the very finest wines from the Graham's vineyards, and is the result of the unique terroir of the Douro Valley and subsequent maturation in Vila Nova de Gaia, that has distinguished Graham's for almost two centuries.

The 1972 Colheita shows a vivid, rich amber colour, with a suggestion of a green tinge on the rim. On the nose an explosion of multiple aromas, a combination of caramel, nuts, hints of vanilla and cigar box. Massively concentrated in the mouth, these wines have a complex palate revealing honeycomb, exotic spices and crystallised orange peel flavours. The richness is balanced by a firm and refreshing acidity which gives the wine a perfect balance and structure, leading to an endless finish.
Colheita (Single Harvest) Port, Vintage Port
£235.00 inc UK VAT (where applicable) *
* excludes delivery (free standard UK delivery on orders over £100)