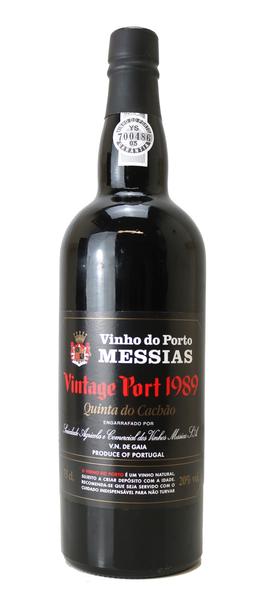 Quinta Cachao Vintage Port
Special Offer Was £99 | Now £79
Description and Reviews:
Exclusive to VWP, The 1989 Quinta do Cachao from the very good 1989 vintage has an outstanding provenance. VWP have taken these bottles directly from Messias' cellars in Oporto where they have been stored since original bottling.

This is the 1989 Vintage Port from Caves Messias, owners of the Quinta do Cachao vineyard located in a prime position in the heart of the Douro valley. Decanted for 4 hours to allow the port to come into balance, it has a deep mahogany core with a lighter edge. The port is beautifully matured with lovely developed complex aromas of wild fruits, chocolate, dried fruits and nuts. On the palate, there is a good balance between the sweetness and acidity and an impressive full bodied texture. The wine is nicely matured and in good balance at this point in its life. There is a long and persistent finish indicating that this is a top quality port. Perfect to drink now we expect that, if well-stored, this port will keep for at least another 20-30 years!
Excellent - ex- cellars from Messias in Oporto
Vintage Port, Vintage Port
£79.00 inc UK VAT (where applicable) *
* excludes delivery (free standard UK delivery on orders over £100)